Are you saying "I want a relationship" but don't have the emotional energy left to go on another boring date?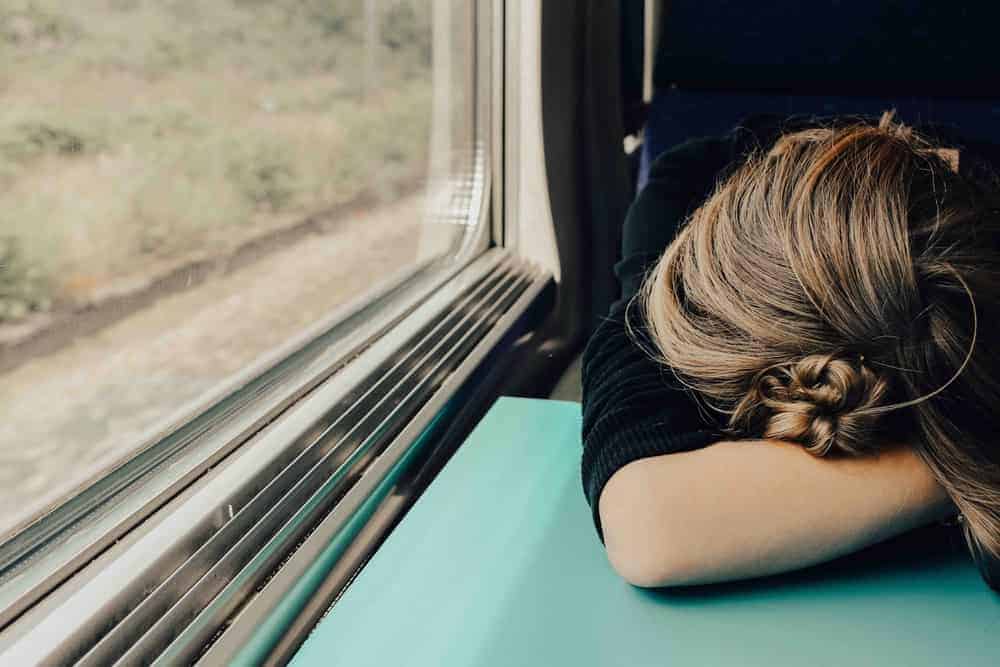 Being Single Is Hard
If you're single in today's world, you've probably had enough of the swiping. Enough of the endless texting that doesn't lead to a date.
You're tired of the swiping, ghosting, friends with benefits and almost ready to accept that you might never find someone.
But if you're honest, you know that not finding anyone would leave you feeling a little empty.
So you don't really want to give up, but you're frustrated.
If all of that is true then I have some tips that might help.
I Want A Relationship So Bad But I'm Tired Of Dating
I know that dating sucks.
It takes so much time and emotional energy.
Yet you can't help but think about the future. You know that you want a relationship but not with anyone.
You want someone that really fits with you, really checks off all your boxes.
First, let me tell you something you're doing right.
It's A Really Good Thing You're Picky
I know this might sound weird coming from a dating coach but, I'm really proud of you for staying single.
So many women decide to just settle down with anybody that takes an interest in them just because they want a relationship.
And then they are miserable for the rest of their lives.
Being single means that you are sticking to your guns.
After all, you are a modern woman in the 21'st century. You absolutely don't need a man to support you.
If you take anything away from this article today it should be this:
Never settle.
Instead,
Focus On The Present
First things first, you need stop looking into the future so much.
Don't get me wrong, it's good to have goals and plan for the future.
But obsessively thinking about when you're going to find that guy, what he's going to look like and when you'll be able to get married is harmful to your mental health.
Why doesn't mental health get brought up more on dating advice articles?
Life is about the present.
The present moment is something we have to appreciate and be thankful for.
You never know what the future truly holds.
Mediation and mindfulness play a big role here. As does gratitude.
Instead of thinking about the things that you want and that will make you happy – why not think about the things that you have and that do make you happy?
It's a good first step into the thing you should prioritize most in your life. Self Care.
Read: Self Care is Not Selfish: Why Putting Yourself First Helps Others.
Focus On The Relationship With Yourself
When you say "I want a relationship" you have to look deep inside yourself and ask why you want one.
Is it because you're trying to fill a feeling of emptiness?
If that's true then let me ask you this.
Have you ever been in a bad relationship? Or even one that just didn't work out the way you thought it would?
If you said yes, then you know that it is very possible to be in a relationship and still not be happy.
So deep down, you know that it is up to you to make yourself happy.
Many millennial women are suffering from the following problems that make them want to jump into the arms of any man:
Low Self Esteem
Anxiety/Overthinking
Feeling that the biological clock is ticking and you want to have babies.
I have covered the above topics extensively in the following articles:
Will I be Single Forever? Find Out If Your Love Life Is Doomed
Why You Should Stop Trying To Get Rid Of Anxiety
My Biological Clock Is Ticking and I'm Still Single
But, I will also give you a spark notes version here about what's going on.
Low Self Esteem
This could be the result of shyness/introversion. If you are shy or find it difficult to connect with someone right off the bat then, then dating is going to be very challenging!
The good news is that although you may never be the life of the party or the loudest person in the room, you can definitely learn how to connect better with people upon the first meeting.
The way that you do this is by understanding the three steps to human connection.
Small Talk
Opinion
Self Revelation
You probably enjoy deep, meaningful conversations more than small talk, but you know what?
We all do!
In order to get to that point of connection with someone, you must get better at small talk. It's the first step you need to pass in order to get unlock the more fun conversations.
If you need help in this area, you can check out the ebook I wrote about it here on Amazon.
Anxiety/Overthinking
After dealing with hundreds of clients, this is probably the hurdle I encounter most often.
Do you get so caught up in the details of things that you forget to look at the big picture?
This is hurting the relationship you have with yourself, do you know why?
Because you're probably beating yourself up about the fact that you're still single.
Maybe you have friends who are getting married and having kids.
You see their "perfect lives" on social media and you wonder why you haven't been able to find that for yourself.
If this is the inner dialogue that is going on in your head, it needs to stop.
You are becoming your own worst enemy and no relationship is going to fix that.
You're giving yourself permission to be your own bully.
When you allow your own brain to hurt you, it doesn't stop when the problem gets solved. It's a habit that is difficult to break once it starts.
If you struggle with overthinking and anxiety. You can check out these posts:
Rumination: How To Stop Rumination and Overthinking
How To Fight Anxiety – 7 Ways To Stop Worrying All The Time
The Biological Clock Is Ticking
The final reason that you're probably saying "I want a relationship" is that you are feeling your biological clock ticking.
I'm not the kind of person to beat around the bush so…
This is the hardest problem to overcome.
In life, the only thing we can never get more of is time.
I won't lie, if you want to have your own biological children, you have only three options.
Freeze your eggs
Get artificially inseminated by a sperm donor
Find a boyfriend
The first solution is kind of the best one but it is expensive. If you have $10K to spare and having biological kids is important to you, I say go for it.
If you can make your goals happen with a little cash, there's nothing wrong with that.
The second solution is also good if you can take care of the child on your own. Although dating might be tougher with a child, there is no doubt in my mind that you'll eventually find a man that wants to settle down with you and your kid.
So this is an option for sure but just be prepared for the consequences.
Raising a kid is difficult.
Raising a kid alone can drive you crazy.
If neither of those options seem good, we are left with one more.
Find A Boyfriend
"But Lana, I've been trying to find a boyfriend for the last 10 years and it hasn't worked."
Don't worry, I've got your back.
You haven't been able to find a boyfriend that is amazing, supports you and accepts you because you aren't prepared to settle for less.
You know what you want, you know what's going to make you happy…
You just can't find him.
Other Dating Coaches Are Wrong
Other dating coaches and experts will try to sell you on the idea that you're being too picky.
They want you to keep and open mind and lower your standards.
Although keeping an open mind is a good thing, you don't want to sacrifice the things you know are going to bug you down the road.
I was dating a guy that was perfect on every level.
Good job, good looking, fancy apartment in the nice part of downtown. We even got a long famously!
So why did I break it off?
There wasn't any sexual chemistry.
I knew it wasn't going to work long-term so I cut him lose and I'm glad I did. Because my boyfriend now checks off all those boxes and more!
So how can you get this for yourself? Well first you need to understand one thing.
When you're looking for a diamond in the rough…
You have to get better at looking.
If you want a great guy that checks off all your boxes and really makes you happy. You can't leave this up to chance.
You can't just "meet someone organically" or "see how it goes".
When you leave this up to chance, you let the time pass by.
You let the months and the year go by and when you wake up, you're still single.
Get Better at Online Dating
I wish it didn't have to be this way my friend.
I know you are strong, smart and successful. You have your hobbies, your good job and a great lifestyle. You make everything work.
But it all falls apart when you're dating right?
You can tackle any difficult problem at work.
But a guy texts you too long without asking you on a date and you're ready to curl up under the blankets.
The first thing we have to change is that attitude!
The "woe is me" attitude.
It is absolutely possible to take your dating life by the balls and start making things happen.
Learn About the Dating Platforms
Each dating site has it's own pros and cons. Unfortunately there is no "best dating site" for everyone but I'll give you a rough guide.
If you are in a big city, more than 500,000 people you want to focus on Hinge and Match.com
Hinge is taking over in Western countries because it's so much less infuriating than the endless swiping apps like Tinder and Bumble. Definitely get on this one if it's popular in your area.
Match.com is the most popular desktop site. This one is great because you can filter out a lot of the fluff since it has a lot more filters than the dating apps. This one is a paid site so the guys do tend to be more serious.
If you are in a smaller city or town then focus on Bumble and Match.com.
Bumble is more casual for sure but it's still a lot better than Tinder and has a lot of options because it's a very popular app.
Put On Your Big Girl Pants
I'm going to give you some tough love now. The kind of love you need in order to actually find love.
Are you ready?
Can you handle it?
You will message men who are "amazing" and they might not respond back to you.
You will have plans to go on a date with someone and they might not actually show up.
You will text a man back and forth and they might flake on you and never ask you out.
You will start seeing a man who seems great and then he'll tell you something that you don't like and it will have all been a waste of time.
Repeat The Following For Me Right Now:
Self Love
Confidence
Persistence
When you love yourself, you can take a little bit of rejection.
When you are confident, you can take a LOT of rejection.
And when you are persistent, you get what you want. You reach your goals.
With those three things in your back pocket, you won't fail. It might take time, but you'll enjoy the process and you will get what you want.
If you need helping getting what you want, go ahead and click this link to learn more about my dating strategies.
Otherwise remember this:
The longer you stay in the dating game, the faster you get out.
How To Attract A Man That Is High Quality
I hope you found this article helpful but it does you know good if you're not attracting High-Quality Men.
Find out what High-Quality men look for in a woman, check out my Free Guide "How To Attract Higher-Quality Men". It's free!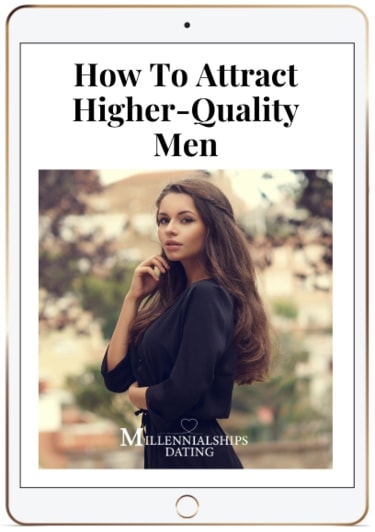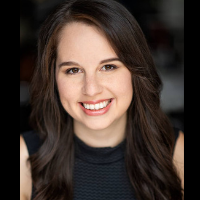 Latest posts by Lana Otoya
(see all)