Welcome to "The League" dating app review. As a dating coach, Most of my clients want to use an "exclusive" app that hordes all the higher quality matches. The League claims to be the app that can fulfill this need, but does it work? Is the League worth it?
Read more to find out everything you need to know about the League Dating App.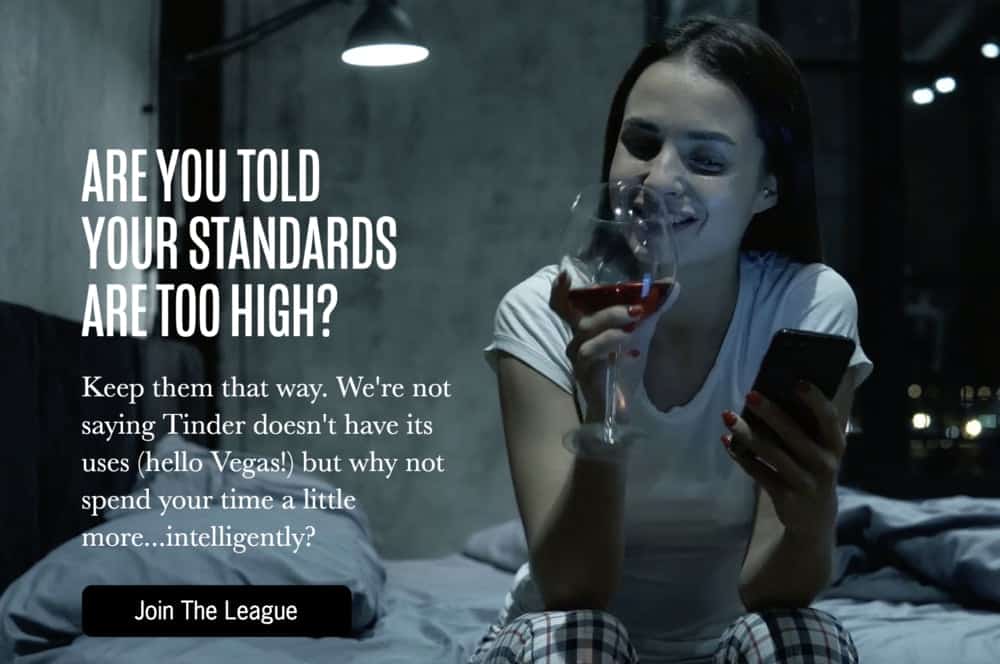 Summary of the League:
The League is a dating app that claims to have "no losers" on it. Unlike the most common dating apps like Tinder and Bumble, you won't find your average joe on the League.
The League is marketed to single people who are "picky", meaning people who are looking for matches that are successful or "above average" in some way. This means people who are highly educated, business owners, etc.
In order to ensure that everyone on the League meets these criteria, they have a strict vetting process. Not everyone can use the League. The app was created to be exclusive, much like going to an Ivy League school.
The League Dating App Review Summary
Summary:
If your dating standards prioritize what the League requires for acceptance (ie. high education, above-average income, etc) then the League will provide these people. The only downside is that it's slow. You're getting very few matches a day, so weeks or months can go by before you're going on a date.
Match Selection

Effectiveness

Value

Amanda Bradford, founder of the League has stated this herself:
"I was actually inspired by Stanford because when I went to business school, it was very evident that having an administration layer was very helpful for social activity and helping you make friends and helping you find people to date or to do business with. So I felt like, could The League serve as that administration layer and could we create a community of people just as ambitious as the folks I met at Stanford and do it without having to pay $200,000 to actually go and attend business school?"

Amanda Bradford, talking to Mission.org
So if you like the idea of a dating app being more exclusive, the League might just be for you. Let's continue breaking down just how it all works.
Where Is the League Dating App Live?
To start off the exclusivity, the League is not available everywhere. As you can see from their very own website, the League Dating App is only available in the following areas:
UNITED STATES
New York City, San Francisco, Los Angeles, Chicago, DC, Boston, Philadelphia, Atlanta, Dallas, Seattle, Denver, Miami, Houston, Austin, San Diego, Detroit, Phoenix, Minneapolis, Charlotte, Nashville, Raleigh, Orlando, Portland, Tampa, Pittsburgh, Sacramento, Hartford, St. Louis, Cleveland, Kansas City, Columbus, San Antonio, Salt Lake City, Indianapolis, Las Vegas, Tulsa, Cincinnati, New Orleans, Paris, Vancouver, Milwaukee, Montreal, Richmond, Charleston, Birmingham, Syracuse, Norfolk, Oklahoma City, Louisville, Buffalo, Norfolk, Albany, Madison, Santa Barbara, Providence, Jacksonville, Memphis, Honolulu, Omaha, Baton Rouge, Knoxville, Columbia, Fargo, Mobile-Pensacola (Ft. Walton Beach), Fresno, Little Rock, El Paso, Lexington, Des Moines-Ames, Green Bay-Appleton, Boise, Tallahassee, Wichita, Albuquerque/Santa Fe, Cedar Rapids, Providence, Spokane, Savannah, Fayetteville, Roanoke, Springfield, Charlottesville, Huntsville, Burlington, Jacksonville, Anchorage, Fargo, Kennewick, Tulsa
CANADA
Toronto, Vancouver, Montreal, Edmonton, Calgary, Ottawa, Kingston
EUROPE
London, Paris, Dublin, Manchester, Oxford, Edinburgh, Birmingham, Lyon, Marseille, Madrid, Barcelona, Oslo, Athens, Munich, Copenhagen, Rome, Milan, Stockholm, Lisbon, Zurich, Brussels, Frankfurt, Amsterdam, Budapest, Istanbul,
ASIA-PAC
Singapore, Sydney, Melbourne, Brisbane, Perth, Auckland, Hong Kong, New Delhi, Mumbai
LATAM
Mexico City, Santiago, São Paulo, Rio de Janeiro, Bogotá, Buenos Aires
MIDDLE EAST
Tel Aviv, Dubai
How Does The League Dating Work?
Here is a step-by-step breakdown of how the League works.
Not Only For Dating
The League is mostly a dating app but they also have networking events. At the beginning of signing up, the app will ask if you want to use it for pursuing a romantic partner or if you just want to network.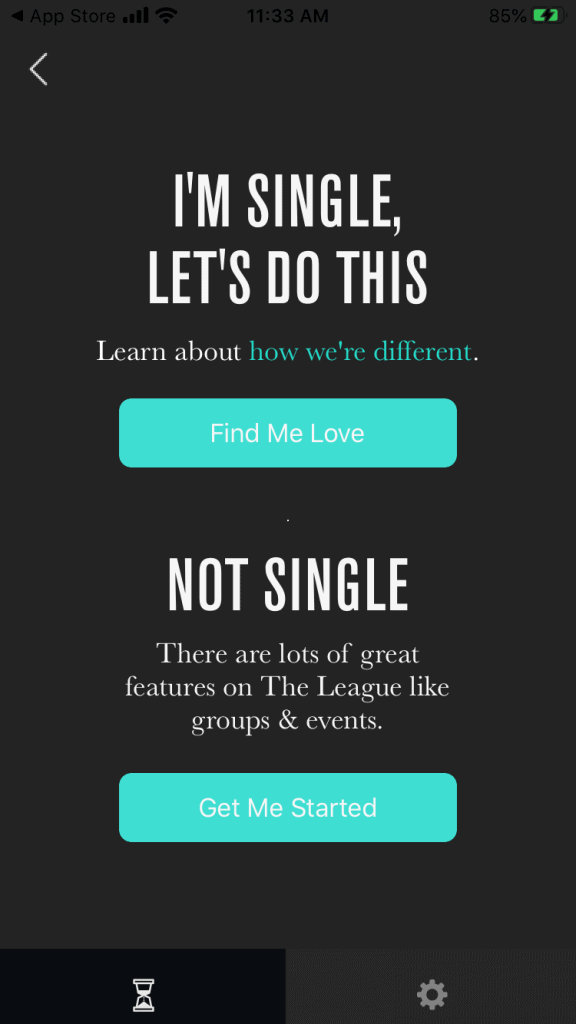 LinkedIn Connection
Something that is unique to the League is that they require you to sync your LinkedIn account. This is to verify your professional work experience as well as your education credentials.
They also prefer you to sync your Facebook and Instagram. This is so that they can get a better overall picture of your lifestyle to see if it meets their standards.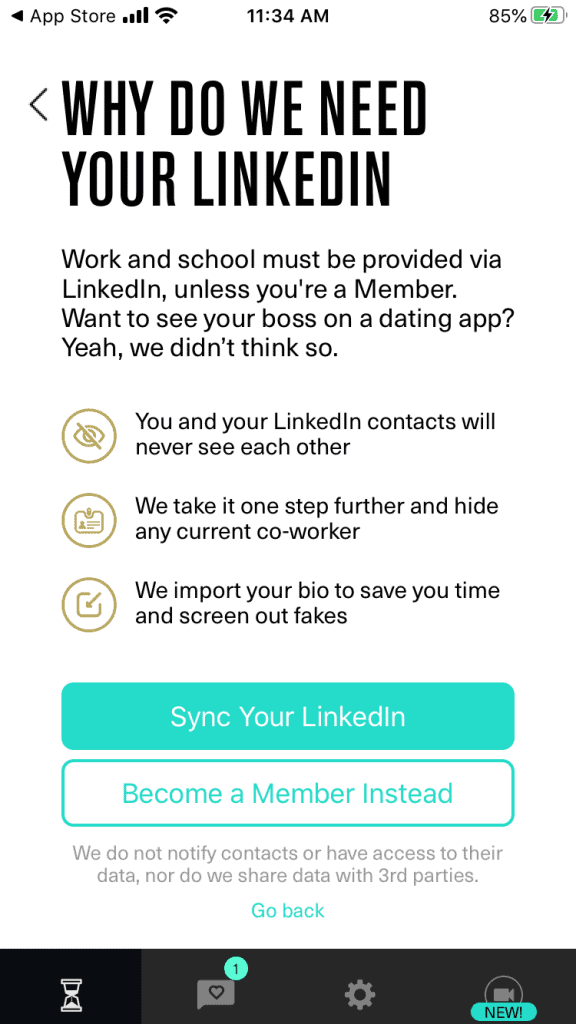 The League Waitlist
The waitlist is one of the most defining features of The League.
You can not start using the app the day you sign up. You create your profile and then you're either accepted or rejected after someone reviews your credentials.
Every potential League user is manually reviewed by a human. While you wait for your profile to be reviewed, you're on the waitlist.
No one is able to bypass the waitlist, not even paying members. You can become a member and get your profile reviewed faster, but this doesn't guarantee acceptance.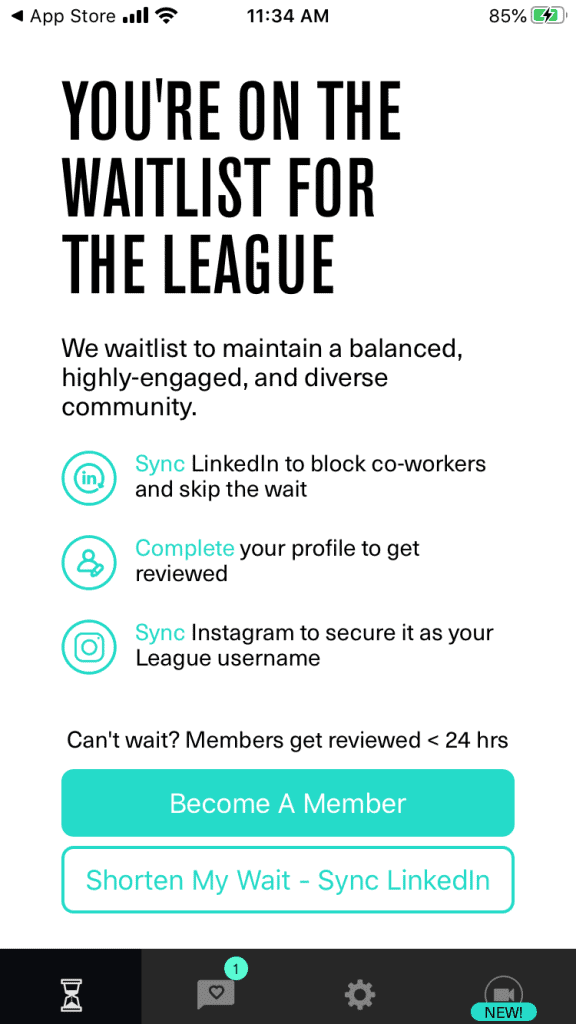 Writing Your Profile
In order to increase your chances of getting accepted, you'll need a well-written profile.
Profile Text:
The profile text for the League is maxed at 140 characters. This is limited space so make the best of it by using point form and witty language.
The League automatically adds your profession and education from LinkedIn, so make sure it's accurate. This also means you don't have to repeat what you do for a living in your 140 characters of text.
Use the text to say what you like to do for fun, or what you're looking for. ina partner. Remember to keep things light and fun.
Make sure you fill in all the profile details so nothing is left out. Also never hide your age. It does more damage than it helps.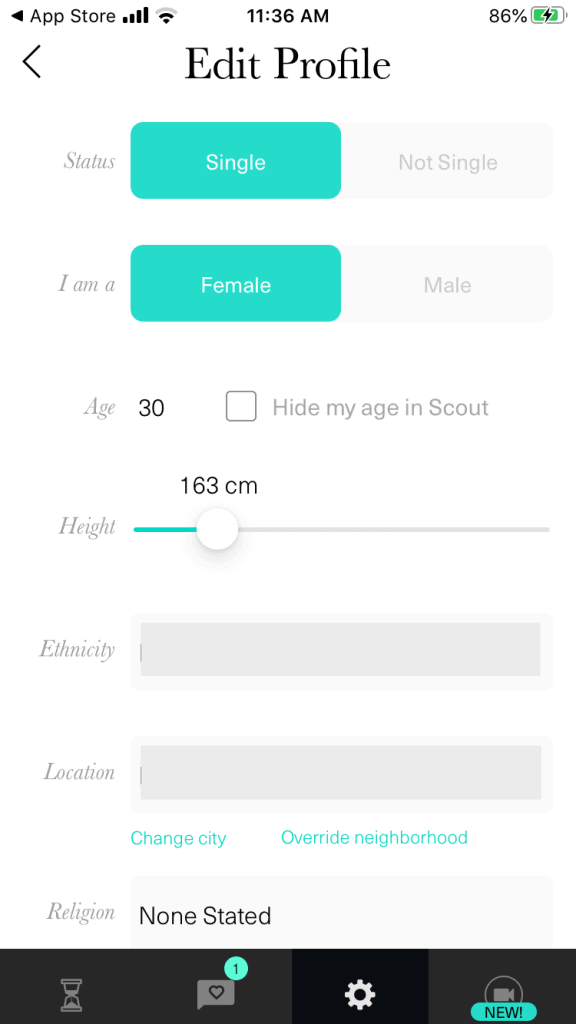 If you need some more tips on how to write a dating profile, click here.
Selecting Filters:
the League allows you to be very specific on your filters. You can filter by age, race, height, religion, etc.
The League's logic behind this is that they want things to be efficient. They want to only show you matches that check off all the boxes. Here is what Amanda Bradford said about their filtering process:
Well, efficiency. Let's say you're Indian, and you really want to marry another Indian and that's something that's very important in your culture, and your parents really want you to, you want to.

If we didn't have that, you'd have to maybe be on the app 100 days to kind of go through all the Indian men in New York, whereas now you're going to go through them in 30 days, and then essentially, we're giving you your search results front-loaded, and then we obviously relax it.

Once we're out of 6'1" Indian men, we might show you 5'11" Indian men, and then 5'10".

Amanda Bradford to The Verge
Related: 20 Must-Know Online Dating Questions To Ask Before Meeting
Choosing Photos:
Your photos are the most important part of your profile. You must make sure that they are giving off the right vibe.
Your photos together all give off a certain vibe. If you have a bunch of selfies in the car, it looks like you don't have any friends or go out.
Instead, photos of you hiking, traveling, or skydiving show off a much more active and adventurous life.
You want to make sure that your photos are giving off the best vibe possible.
On the League, looking "professional" is also really important. While business headshots don't work well on most dating apps, the League is one app where they won't hurt.
Related: 7 Best Dating Apps For Relationships
One of the selling points of the League is that they use an algorithm, also known as the "concierge" to help find you the best matches. They don't want you spending hours on the app swiping like you would on Tinder.
Instead, they will give you select matches that they think are best, every day at 5pm. This is called the "[email protected]". If the two of you like each other, you can then begin a conversation.
The limited number of daily matches is meant to save you the time it takes to swipe for matches every day. The problem is that if you really are picky, you can go days or weeks without finding someone you want to talk to.
The League Score
The League scores its users based on how active and reliable they are on the app. The higher your League score, the better matches you will get.
The League published statistics on couples that were serious and met through the app. They said:
League Score: Our LeagueLove couples all had extremely high League Scores. What does this mean? In addition to having a popular profile that gets 'Hearted' a lot, a high League Score also indicates low flakiness, high initiation rate, and a solid attendance rate at our daily 5PM Happy Hours.

The most interesting part of this tidbit is that our LeagueLove couples, on average, were only 1 standard deviation away from their partner's League Score, whereas, across all the matches in The League, the deviation is close to 3! This means our LeagueLove couples must have a spidey-sense to recognize others who use The League in an eerily similar manner!
Related: How Does Bumble Work For Women?
How Much Does the League Dating App Cost?
Membership Plans

Monthly Cost
Yearly Cost
12 Months
6 Months
1 Month
$29.08 USD
$33.17 USD
$99.00 USD
$349.00 USD
$199.00 USD


Tickets

Unit Cost
Total Cost
5 Credits
15 Credits
50 Credits
300 Credits
$5.00/credit
$4.00/credit
$3.98/credit
$3.33/credit
$25.00
$60.00
$199.00
$999.00

Owner Plan

Monthly Cost
Yearly Cost
12 months
1 month
$83.25/month
$199.00/month
$999.00
$199.00

Investor Plan

1 month at a time
$999.000/month
These are the different types of memberships and their perks, straight from the League's membership page. All higher-level memberships get the perks of the lower tier plus more.
MEMBER
---
5 Prospects per daily Batch.
3 dates per League Live party.
Message read receipts
Bio customization to stand out or keep things private.
View your Profile Stats.
Set default openers.
Get 2 Tickets to buy a Batch of Prospects, or a Boost.
Create Groups and invite users in your city to events you list.
5 Friend Requests per day.
OWNER
---
6 Prospects per daily Batch.
3 dates per League Live party.
Unlimited Power Moves – these guarantee everyone you like sees you immediately.
Unlimited Rematches ensures you never have a missed connection.
Know if someone has already liked you – the green heart on the profile will be solid.
Accidentally X'd someone? Undo for free.
6 Friend Requests per day.
INVESTOR
---
7 Prospects per daily batch.
3 dates per League Live party.
See everyone who "likes you" each day refreshed in real-time. Match & chat with one click!
Send openers to any user in your daily Batch. Tell 'em why they should Match you back!
Profile Privacy. Choose to be seen only by the prospects you like and/or block specific users.
Concierge support from at human dedicated to your success.
7 Friend Requests per day.
What are the League Tickets?
Tickets are used to purchase membership perks on an a la carte basis. Purchasing tickets on the League means you can choose the perks that you like best and use them without being a full member.
Is the League App Any Good?
Here is where I will give my honest opinion on the League. I have seen it work well for certain clients, but it's not for everyone.
The League is really slow.
When you're only getting 5 matches a day, it can take weeks to find someone you're interested in. I know it sucks to spend all your time swiping on Tinder, but at least there you have a lot of options and can go on multiple dates a week.
But, Lana, you might be asking "I want quality, not quantity."
I see where you're coming from, but quality comes in many shapes and sizes. Just because someone graduated from Harvard doesn't mean he's a more loving and supportive husband.
Should I Use The League?
Here is what the founder of the League, Amanda Bradford said is the perfect woman to use the app:
According to Bradford, the ideal "Leaguewoman" is "intelligent, independent, ambitious, career-oriented, incredibly busy, knows how to put herself together, and, most importantly, has high standards for the men they choose to spend time with." Basically, the ultimate #girlboss.

Amanda Bradford talking to InStyle
If that's you, go ahead and give it a try. My suggestion is to have the League in addition to an app like Hinge. This allows you to play the numbers game a little better, while also having the League scout out the higher-quality matches.
Try it for a month and if you're not liking it, just stick to the regular apps.
The other apps have high quality options as well. They can also make it easier to find high-quality men. Your eyes are a really good filter that you can use on other apps too. If you see someone doesn't have a job on Tinder, don't talk to him. If someone on Hinge went to Harvard, then talk to him.
Pros and Cons Of The League
The Good:
Social verification – The League's filtering system does make it harder for scammers and catfish to get in. It also does do a great job of making sure everyone on there has a good job, and education etc.
Set it and forget it – The league gives you matches every day so you don't have to spend hours searching on your own. As long as you check your matches once a day for about 5 minutes, that's all you need and the app will do the rest of the work.
Bad:

The process is slow. Limited matches a day will make it harder play the numbers game that is sometimes necessary for online dating.
Expensive: The slow process also encourages people to stay on the app longer, and costs will start to add up.
Elitist: The League has come under fire for being elitist because it judges people by their credentials and not their character.
Note on the above point: While I believe it's a little elitist, I think that it's ok to be picky in dating. If what the League considers "high-quality" is the same as what you value, it can be a useful tool. It just shouldn't be your only tool.
Related: 8 Reasons Online Dating Isn't Working
How To Get Off The League Waitlist
So you've decided that you want to use the League and want to bypass the waitlist.
Unfortunately, there is no way to guarantee your acceptance into the League.
There is no way to bypass the Waitlist. But, you can ensure you have the best profile to increase your chances of getting accepted.
The best thing to do is act quickly. As soon as you sign up for the League, you'll be put on the waitlist while someone reviews your profile. This means you don't want to sign up, have a sub-par profile and forget about it. Only to open the app again and realize you have been rejected.
Here are ways you can put your best foot forward right from the start:
Fill Out the About Me section
Make sure you have all 6 photos, do not use the ones automatically populated from Facebook
Choose great photos that make you look professional and fun (ie. travel, hobbies, etc)
Become a member to get your profile reviewed faster
Make sure your LinkedIn is updated and synced
How To Attract A Man That Is High-Quality
I hope you found my League Dating App Review helpful. If you enjoyed it, I know this means you're looking for a high-quality man.
You're a confident and successful woman – you deserve a confident and successful man.
If you're interested in learning what High-Quality men look for in a woman, check out my Free Checklist "How To Attract Higher Quality Men".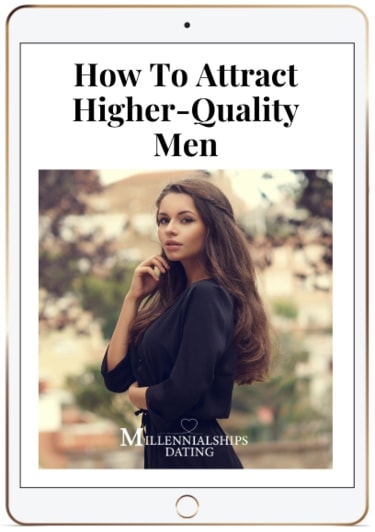 Conclusion
Thanks for checking out my review on the Leauge, good luck in life and love!
Love, your favorite dating coach,
-Lana
Related:
How To Write A Good Online Dating Profile – 10 Do's and Don'ts
Tips for Online Dating From 30 Experts
7 Best Dating Apps For Relationships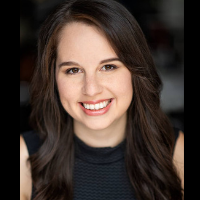 Latest posts by Lana Otoya
(see all)